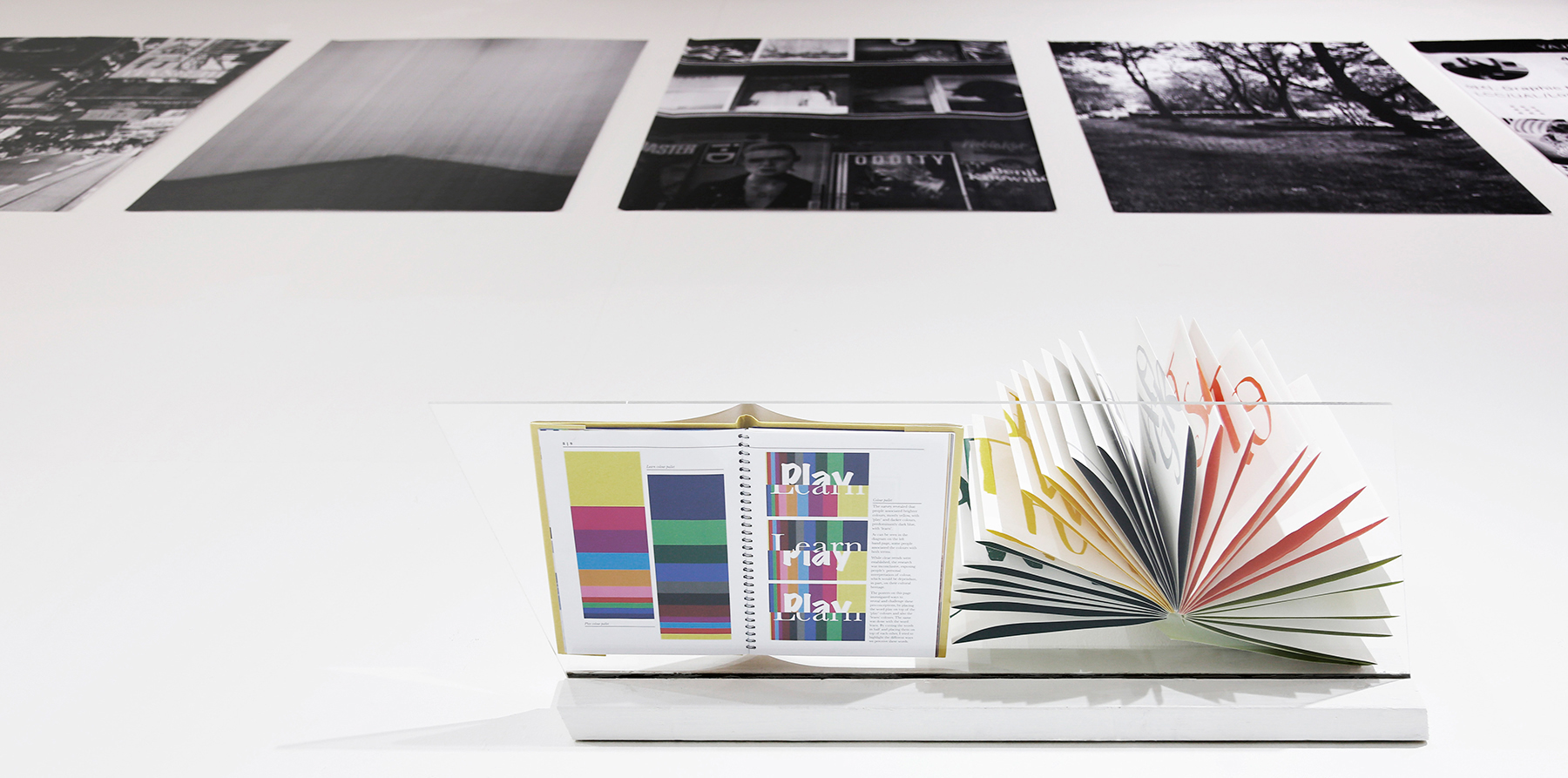 Welcome to the MA Graphic Design Postgraduate Show 2015 - #intheageof - a great moment to congratulate the completion of an intense, challenging and exciting phase of enquiry for these 44 talented practitioners. Insightfully and critically, the focus of the graduate exhibition this year is to collectively acknowledge context; as individual practitioners, in relation to the discipline of graphic design and crucially in direct reference to societal developments, tensions and phenomena. The course team are excited to observe the impact these sharpened perspectives, informed practices and active attitudes will have in the diverse fields these designers choose to participate in upon graduation. (…)

— Paul Bailey, Course Leader

In the Age of Graphic Design
A curatorial team of led by graphic designers Dina Darwish, Aspa Founti, Kimberly Goes and Weronika Rafa defined the concept of the exhibition, grouped the projects by subject and created a narrative out of it that responded to the intention of the #intheageof hashtag. They finally designed a leaflet that provided the essential information, event dates and credits of the show, as well as a discussion on the context of graphic design held by Paul Bailey, David Benque, Joanna Choukeir, Peter Crnokrak and Sophie Demay.

The design of the exhibition itself, as well as the individual pieces of furniture such as shelves, tables and vitrines was lead by the architect and graphic designer Guillem Matallanas. The main idea of the design was to challenge the idea of a conventional exhibition by distorting every single element in a certain way, tilting surfaces and breaking straight angles, so the viewer would be constantly offered unexpected and exciting ways to look at the exhibited pieces. The materiality of the elements was kept as simple and invisible as possible so the experiments and bodies of work would clearly stand out. 

In addition to the physical elements that shaped the space, a large number of digital displays and projections formed a moving second layer to the show. Graphic designer Ozan Korkut was responsible for the design and execution of that "digital dimension", which constantly changed the appearance of the exhibition space, expanding the potential amount of content that could be displayed in there. The videos that the screens of all sizes displayed were edited by graphic designer Sara Zaher, while the projections on the big table in the back of the room were edited by Ozan Korkut.
Project Management:
Guillem Matallanas
Curation:
Dina Darwish, Aspa Founti, Yejee Lee, Weronika Rafa, Sara Zaher
Set Design:
Ozan Korkut, Guillem Matallanas, Shaochuan Lee
Photo credits:
Guillem Matallanas
Special thanks to
Paul Bailey and Sophie Demay